Join
Become an annual member or get a short-term pass through the Careem BIKE app.
Unlock
Find an available bike and scan the QR code on the bike frame or enter the 5-digit code on the app to unlock it.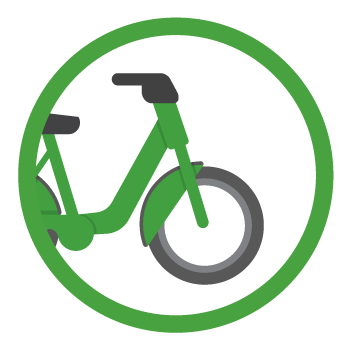 Ride
Take as many 45-minute trips as you like while your membership is active. Overtime fees apply on trips longer than 45 minutes.
Return
Return your bike to any Careem BIKE station, wait for the green light and buzzer sound to make sure it's locked.
Why Careem BIKE?
It's fast
Careem BIKE is faster than walking and perfect for quick trips. Bike stations are conveniently located at Dubai Metro stations, key areas and within communities.
It's affordable
With annual, monthly, weekly and daily memberships, Careem BIKE is the affordable way to get around.
It's Easy
Locating a station, renting a bike and paying is as easy as a tap of a button with the Careem BIKE app.
It's Green
Careem BIKE is the most sustainable way to get where you're going while getting exercise and having fun!
1 Year
AED 420
(Less than AED 2 per day)
Overtime Fees
With any active membership, you can take as many rides as you like as long as each trip is less than 45 minutes. If you're about to run out of time, simply return your bike to a docking station for a moment to avoid an extension fare.
If you keep the bike longer than 45 minutes at a time, it's an extra AED 10 for each additional 30 minutes.
Cycle Safety
STAY ALERT
WATCH OUT
USE HAND SIGNALS
DISMOUNT AT CROSSWALKS
WEAR A HELMET & REFLECTIVE VEST
Bike Station Maps