Careem Engineering
Join us in building innovative services that move the region forward.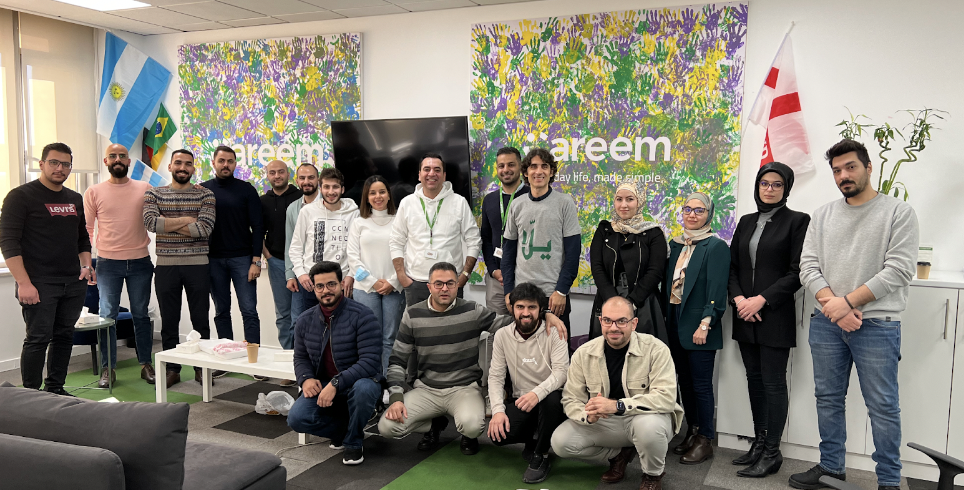 We have the incredible opportunity to be part of the region's digital transformation and shape the progress in some of the fastest-growing countries in the world. Our teams are building tech to meet the needs of the future in areas including data and AI, e-commerce, technology-enabled logistics, maps, identity, and fintech.
With talented colleagues joining us from all over the world, you can find the role that suits you best across any of our tech hubs located in Dubai, Karachi, Lahore, Islamabad, Berlin, Cairo and Alexandria or join one of our dispersed teams across a number of other cities.
Detecting fraud on our platform
Ten years into our journey, we have 50 million customers in the region and more than 12 services on our app. The analytics and machine learning capabilities of Amazon Neptune allow Careem to automatically detect potentially fraudulent patterns in real time.
Meet our leaders
As part of Careem's Engineering team, you'll be working and learning from some of the best experts in the region as they build the Careem Super App. Learn more about them below:
Stephen Kruger - Chief Technology Officer

Stephen has a vision to use technology to transform the region. He leads the way forward for Careem's Super App team with his skillset in platform architecture, management, cloud security, solution architecture, and agile methodologies. Stephen brings a wealth of experience and knowledge to Careem and has worked with leading companies such as Grab, IBM, Xerox, and Sun Microsystems. He graduated from Rhodes University with a Bachelor of Science in computer science and biochemistry and attended the executive leadership program at Harvard Business School.

Baber Shaikh - Senior Vice President of Engineering, Mobility

With a knack for solving problems and a passion for the tech industry, Baber helps us fuel technology, capital and ideas in the region. His expertise in delivering highly visible products and strategic business opportunities helps expand the talent development at Careem utilising the latest innovations. Baber has over 20 years of progressive engineering management and leadership experience; his expansive portfolio is steeped in helping deliver key tech-focused products and experiences to the market, including Nvidia's cloud gaming service GeForce Now (GFN), Nvidia Shield, Microsoft Xbox One, Groupon Goods, Xbox 360, Microsoft: Yahoo! Alliance, CNBC and MSN Money Financial Portals, SQL Server 2005, and Hotmail/MSN Messenger. He graduated from the University of Toronto with an undergraduate degree in Computer Science. He obtained both an EMPA and an MBA from the University of Washington, specialising in Technology.

Selim Turki - Senior Director of Software Engineering

Tunisian by birth, French by culture and Italian by heart, Selim looks after all the elements related to data at Careem, from its initial point of getting ingested from different applications and processed in Careem's systems to consumption via analysis and visualisation, Heuristics and ML models. He brings over two decades of experience in digital and on-demand industries and was one of the founding team members of the Toluna Group. He was also one of the first colleagues to join Careem and help build the region's first tech unicorn. Statistician at heart with a passion for building, scaling, and mature unicorn tech businesses, Selim holds a Master's degree in Statistics and Econometrics from Toulouse School of Economics in France and an EMBA from INSEAD.

Dr. Mohamad Charafeddine - VP of Product for Mobility Platform

Mohamad leads Careem's mobility platform and oversees the product management function covering Captain, Marketplace, and trust and safety products. Before becoming the Vice President of Product, he led Careem's engineering teams for the mobility of people, things, infrastructure, data and AI. Mohamad has previously worked at Samsung as a Director leading the Applied AI research and development team. He was also part of the Core ML team for Business Integrity at Facebook in Menlo Park, the United States, to classify and manage advertising content across Facebook and Instagram. With a passion for growing the entrepreneurship and venture capital (VC) ecosystem, since 2015 he has been a VC advisor and investment committee member since 2015 for Arzan VC Fund I and Fund II supporting early-stage startups in the MENA region. He graduated from Stanford University with a doctorate in Electrical Engineering and continued his studies at the Haas School of Business at the University of California, Berkeley where he obtained an MBA.

Magnus Olsson - Chief Product Architect

Magnus is co-founder and Careem's Chief Product Architect. In his role, he facilitates the development and continuous evolution of Careem's product vision and strategy and helps build our world-class product team. Magnus started his first IT consulting company at 15 before studying computer science at Lund University in Sweden and then joined McKinsey & Company as a strategy consultant for five years. In 2012, he left to form Careem with ex-McKinsey colleague, Mudassir Sheikha, Careem's CEO. The idea was not just to build a big business, but start one that would have a big impact, be meaningful, and with a mission to simplify and improve lives and create an awesome organisation that inspires. From that came Careem. When not at Careem, Magnus spends significant time mentoring start-ups and supporting the tech ecosystem.

Dr. Srijith Nair - Chief Information Security Officer

As Careem's CISO (Acting), Srijith leads the team that keeps Careem secure and ensures trust between Careem's Customers, Captains, Colleagues, merchants and partners. Srijith is an accomplished cyber and information security leader whose career has spanned industry verticals (tech, telecom, security, ecommerce), geographies (Middle East, Europe, USA), and sizes (startups, scale-ups, MNCs). Srijith has previously led the security product development at Booking.com. He also worked as the Chief Strategy Officer and Chief Product Officer of Axiomatics and as Principal Researcher at British Telecom. He is the holder of several patents, a contributor to security industry standards and the author of various widely-cited journal articles and conference papers. Srijith holds a Ph.D. in Computer Security from Vrije Universiteit, the Netherlands.

Junaid Chaudhry - Senior Director of Careem Pay Engineering

Junaid is Senior Director of Engineering for Careem Pay and Careem's site lead for Lahore, where he helped grow the local Engineering team. He identifies his purpose at Careem as achieving the company's mission of simplifying the lives of ordinary people through technology and delightful products. One of his ambitions is also to foster the growth of the software engineering ecosystem in our region and create a globally recognised engineering team and brand at Careem. Prior to joining Careem, Junaid led several engineering teams at Uber, working across domains including Storage Infrastructure, Driver Onboarding, and Uber Freight. He has also worked at several startups in the San Francisco Bay Area and is an experienced full-stack engineer with a focus on backend and scalability. Junaid has over 18 years of experience in software engineering and leadership. He received his Bachelor's degree in Computer Science from the Lahore University of Management Sciences, a Master's degree in Computer Science from the University of Southern California, and a business management certificate from the Wharton School at the University of Pennsylvania.

Naorus Abdulghani - VP of Engineering Infrastructure

Naorus looks after Infrastructure Engineering at Careem and is responsible for empowering Careem's engineering and product experiences with a reliable and automated infrastructure. He is an experienced and senior software engineering leader with over two decades of experience managing and delivering large-scale solutions to complex systems through software development management and technical leadership. He has the unique ability to simplify and solve complex problems and define and lead strategic visions. Naorus has experience participating in architecting scalable, robust, and adaptive solutions that have earned him the go-to person for successfully delivering results from large and complex projects. His work experience has been across multiple industries: healthcare, telecommunication, aerospace, artificial intelligence advertising, cloud computing, autonomous driving, and large-scale infrastructure. He is passionate about coaching, motivating, and empowering engineers. He holds a Bachelor's degree in Computer Engineering from UC San Diego and a Master's degree in Engineering Management from the University of Southern California.